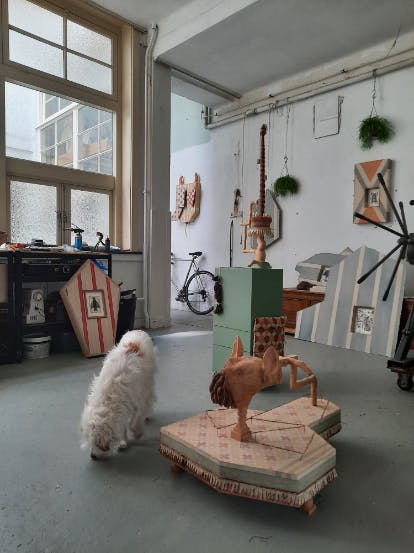 Jordan Herregraven (b. 1990 - Phoenix, Arizona, USA)
Based in The Hague, Netherlands
Contact:
jordan.herregraven@gmail.com
Education
| | |
| --- | --- |
| 2009 - 2014 | Royal Academy of the Arts –  Den Haag, Netherlands |
Bio
Built on a foundation of reoccurring and often archetypal imagery my practice reflects the uncanny experience of encountering the unknown and visceral aspects of reality. Through various mediums such as sculpture, drawing and writing an ongoing mythology is unveiled. Layers of fabric skins and wooden bodies contort and meld, colours and designs reach for order and reason while lengths of thread seek to connect ideas or hold tension like nerves and muscles. The personal body extends outward into an imagined one as felt through the senses; a mortal form holding memories, traumas and revelations of the unconscious mind.
The works remain enigmatic whilst revealing recognisable reflections of both the inner and outer experience of our personal and historic lives, particularly in relationship to nature. This connection to nature is examined through material use by retracing humanity's molding of the environment into aesthetic crafts and symbols that eventually tell the stories of what we value, as a society and as a complex individual full of dreams, thoughts and ceremony. 
Solo Exhibitions
| | |
| --- | --- |
| 2022 | The Untold Histories as Perceived Through the Horses Tear, HOK, Den Haag |
| 2020 | The Unveiling of a Sacred Body, Trixie, Den Haag |
| 2018 | Angel Bait, Museum Beelden aan Zee, Scheveningen |
| 2009 | Concrete vs. Organic: Jordan Herregraven, Gallery 13, Minneapolis |
Group Exhibitions
| | |
| --- | --- |
| 2021 | Adventures Underground, Quartair, Den Haag |
| 2021 | Sterrentuin II, Ketelstraat 23, Den Haag |
| 2020 | A Theatre of Things Beneath the Ground and Behind the Eyes, Raam Maar, Rotterdam |
| 2019 | The Big Draw, ACEC, Apeldoorn |
| 2018 | Eigenaardig, Galerie Wit, Wageningen |
| 2018 | Veiling De Aanschouw, TENT, Rotterdam |
| 2018 | De Aanschouw #879, De Aanschouw, Rotterdam |
| 2018 | De Stenen Kamer, In Your Living Room, Park Madestein, Den Haag |
| 2017 | Budvar Young Art Event #1, Nest, Den Haag |
| 2017 | Open Air Gallery, Rosarium, Winschoten |
| 2016 | Grensloos Kunst Verkennen, de Wijk - Ijhorst |
| 2015 | Now or Never #3 GEM, Museum voor Actuele Kunst,  Den Haag |
| 2015 | Beelden in Leiden, Hooglandse Kerkgracht, Leiden |
| 2015 | Night: Degrees of Darkness, ArtDeli, Amsterdam |
| 2015 | Contrasten II, Galerie Wit, Wageningen |
| 2015 | BLOODY MARY, Maagdenhuis, Amsterdam |
| 2015 | REFINEDr, Flow Art Space, Minneapolis |
| 2014 | Best of Graduates, Galerie Ron Mandos, Amsterdam |
| 2014 | Graphos Uitgelicht, Kunsthal Boschveld, 's- Hertogenbosch |
Grants & Awards
| | |
| --- | --- |
| 2022 | Gemeente Den Haag, Makers Scheme Grant Recipient |
| 2021 | Mondriaan Funds, Artist Grant Recipient |
| 2019 | Piket KunstPrijzen, Winner (Painting) |
| 2018 | Stichting Stokroos, Sculpture Stipendium Recipient |
| 2014 | Stroom Den Haag, "KABK Invest" Grant Recipient |
| 2014 | KABK Department Prize, Nominee (Fine Arts) |
| 2014 | Ron Mandos Youngblood Award, Shortlisted Nominee |
Collections
| | |
| --- | --- |
| | Aegon Art Collection |
| | Various Private Collections |
Publications
| | |
| --- | --- |
| 2022 | The Untold Histories as Perceived Through the Horses Tear, In Hok Publication # 20 |
| 2021 | Alice's Adventures in Wonderland, Stencil Werk Publication |
| 2020 | A Theatre of Things Beneath the Ground and Behind the Eyes, Raam Maar Publication |